Unleash the true power of virtual image card facilitation
CCS Cards Virtual Facilitation Environment
The CCS Cards VFE (Virtual Facilitation Environment) is a game-changing desktop application that gives facilitators the power to activate a virtual pack of CCS image cards on their participant's mobile devices and connect everyone together — from anywhere.
Every participant gets their own pack and can share their choices with the rest of the group — either by showing their mobile screen or clicking "Share to VFE."
The CCS Cards VFE enables a virtual CCS Cards experience that works for both remote and in-room group facilitation and one-on-one coaching.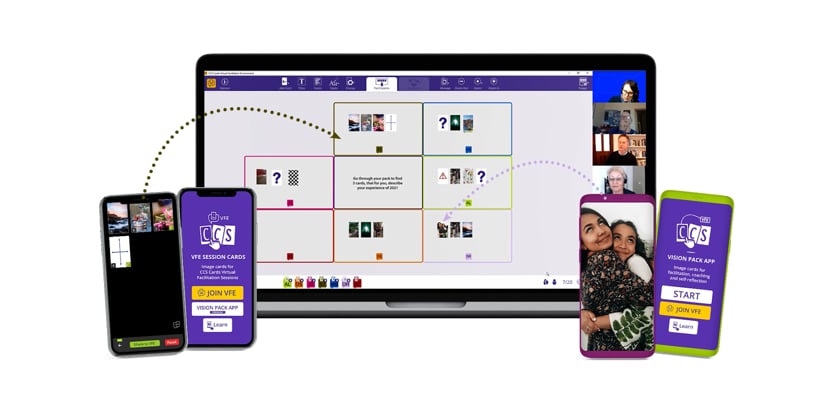 A virtual pack of CCS Cards for everyone
Start a new CCS Cards VFE Session on your desktop and share your VFE screen over your favourite video conferencing app.
Ask your participants to download the free CCS VFE Cards App from their mobile App store (or the Premium CCS Vision Pack App).
Give them the unique session code to join the session. As each participant connects to the session, a virtual pack of CCS Cards is activated on their mobile. (A VFE participant pass is required for each joining participant).
When participants have selected and shared their CCS Cards choices, use the VFE tools and features to virtually manage the revealing and discussion of choices and annotations across the group. Or send them into breakout rooms for small group discussions.
Participants can update their choices at any time.
FREE and PREMIUM versions of CCS Cards Apps available worldwide for iPhone and Android*
Use of image cards in real and virtual environments
(Recorded Zoom presentation by Craig Browne to the Institute for Learning Professionals)
Facilitate sharing, discussion and visions
Common and key cards can be added to a Collection that appears on the Big Board (the VFE's main whiteboard).
Jump to the Big Board to lead the group through discussion, refinement, visioning and notation — similar to standard in-room CCS Cards processes.
Take snapshots of all choices and boards any time for future reference, printing and distribution at the end of a session.
Every move on a session is automatically saved, and sessions can be Resumed and continued (for up to 48 hours).
All sessions are available for Review indefinitely by the facilitator.
GET YOUR CCS CARDS VFE TODAY
30-day money back guarantee